Community Vision's Employment Connections Program provides individualized support for people experiencing disabilities who seek meaningful employment.
The program helps businesses fulfill labor needs while helping people gain valuable experience and skills necessary to achieve financial stability, work within their community, and make a difference in the lives of others.
Why
People with disabilities have the right to contribute, live, work and thrive in the community of their choice. Employment is not just about a paycheck, but also about social and personal value – both to the individual and the community.
Individuals experiencing a disability are 3 to 4 times more likely to live in poverty
Approximately 75% of people with disabilities in the United States are unemployed.
Employment develops confidence, skills and experience that empowers individuals to be financially independent and positively engage with their community
Check out CVI's video highlighting our Employment Program!
How It Works
Community Vision staff works with job seekers to assess their skills, preferences and goals and determine their ideal work environment. We also work closely with business partners to create jobs that fulfill specific needs while considering the skills of the employee. All placement and job training services are provided cost-free to our business partners.
Job Analysis: Community Vision works with the business to clearly define a position and its responsibilities, skills needed and expectations of quality and production.
On-the-Job Training: An experienced job trainer provides on-site training until the new employee meets the employer's standards. The trainer also works with supervisors and co-workers to develop effective support strategies.
Systematic Evaluation: Community Vision follows up with the employer as needed to ensure that the employee's performance is meeting company standards.
Additional Training and Follow-Up: At the employer's request, we can expand or refine job duties. A job trainer provides additional training to the employee, as well as ongoing support to both employee and employer.
Success Stories
Tony and Nossa Familia Coffee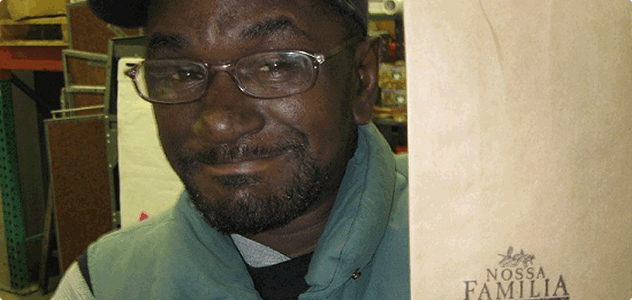 Tony began working for Nossa Familia Coffee, a Portland-based coffee roaster, in January 2011. With Nossa Familia recently expanding to sell coffee in bulk, they had an immediate need for 200 hand-stamped coffee bags a week. The work ethic, quality and the energy Tony brought to the workplace impressed Nossa Familia so much that they hired him as a permanent employee.
Jean
Before Jean connected with Community Vision, she had struggled to find people who would listen or encourage her to achieve her goals. Jean had always dreamed of owning a home but didn't think it was possible on her limited income. She had worked for years in sheltered employment, performing remedial tasks and being paid just over a dollar an hour for her efforts. Through the Employment Connections Program, Jean found meaningful work providing customer service at a local coffee shop. Through fulfilling, fair-wage employment and our Homeownership Independence Program, Jean was able to save enough money to purchase her own home in 2011.
Partner With Us
Contact us to explore how your business can take part in this opportunity to fulfill the employment needs of your business, support your community and improve others' lives. Contact Emily Rademacher.
Business Partners
Arcadia (2013-2014)
ARH Custom Homes
Bakeshop
Burgerville
Centro Cultural Community Center
City of Tigard
Fed Ex
Classic Collection Hats
Harvest Century Cycling Event
Helping Hands
Jimmy Johns
Kennedy School
Kmart
Nossa Familia Coffee
Oliver's Cafe
OMSI
Otto's Sausage Kitchen
Pizza Hut (2013-2013)
Reed College
Securitas
Signal 88 Security
Showers Pass
Wal-Mart
West Cafe
Contact
Emily Rademacher
Employment Connections Director
503-292-4964 x115
Emily Rademacher