Community Vision's Employment Connections Program provides individualized support for people with disabilities who seek meaningful employment.
The program helps businesses fulfill labor needs while helping people gain valuable experience and skills necessary to achieve financial stability, work within their community, and make a difference in the lives of others.
Why
People with disabilities have the right to contribute, live, work and thrive in the community of their choice. Employment is not just about a paycheck, but also about social and personal value – both to the individual and the community.
People with disabilities are 3 to 4 times more likely to live in poverty
Approximately 75% of people with disabilities in the United States are unemployed
Employment develops confidence, skills and experience that empowers individuals to be financially independent and positively engage with their community
Check out CV's video highlighting our Employment Program!
How It Works
Community Vision staff works with job seekers to assess their skills, preferences and goals and determine their ideal work environment. We also work closely with business partners to create jobs that fulfill specific needs while considering the skills of the employee. All placement and job training services are provided cost-free to our business partners.
Job Analysis: Community Vision works with the business to clearly define a position and its responsibilities, skills needed and expectations of quality and production.
On-the-Job Training: An experienced job trainer provides on-site training until the new employee meets the employer's standards. The trainer also works with supervisors and co-workers to develop effective support strategies.
Systematic Evaluation: Community Vision follows up with the employer as needed to ensure that the employee's performance is meeting company standards.
Additional Training and Follow-Up: At the employer's request, we can expand or refine job duties. A job trainer provides additional training to the employee, as well as ongoing support to both employee and employer.
Success Stories
Abby and St. John's Ace Hardware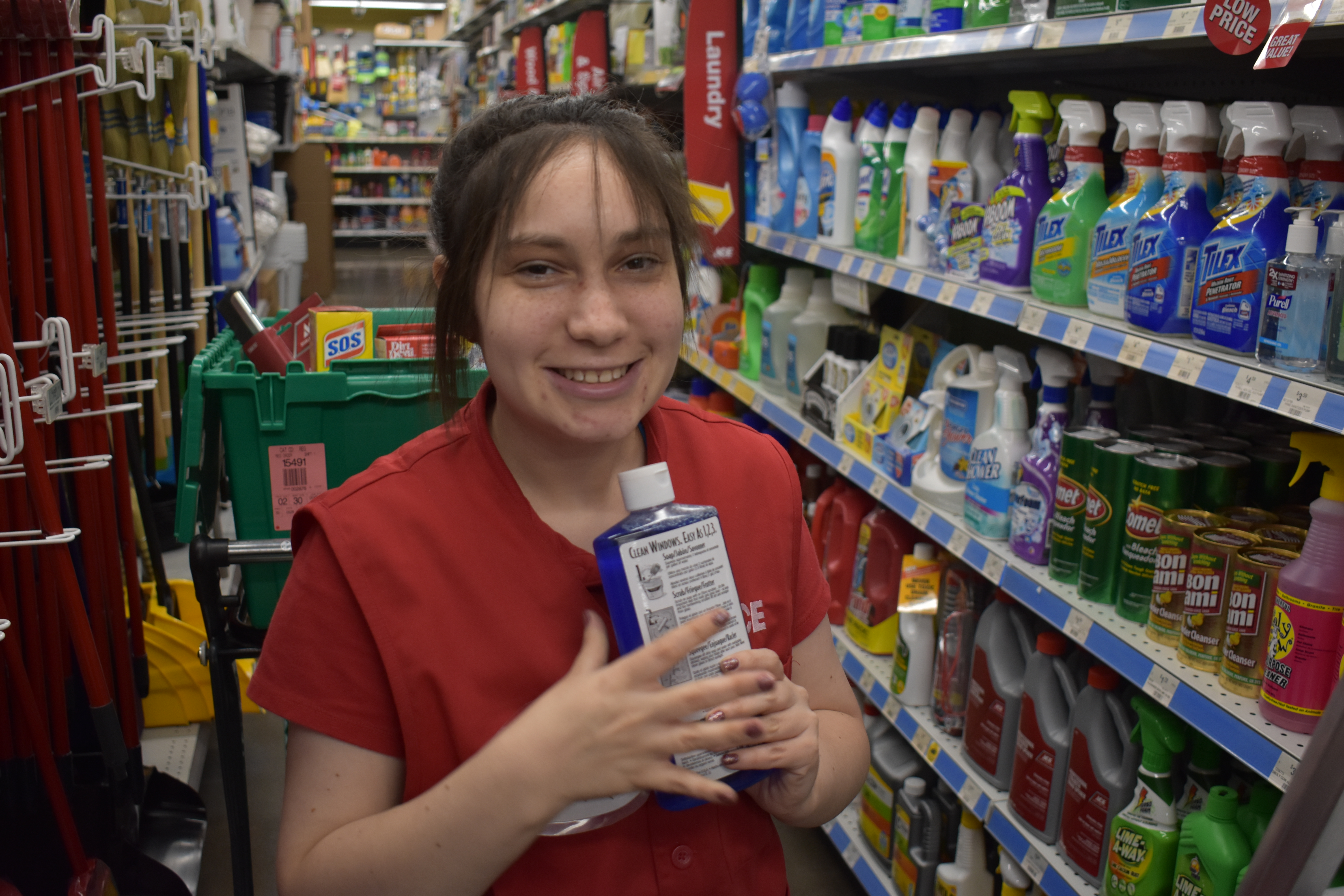 Hello, this is Abby from ACE Hardware in St. Johns. My first day was May 22, 2018.  I enjoy stocking and building wheelbarrows.  I work 9AM – 1PM, Tuesday through Friday.  This is my first paid job, and I'm really excited!  The people that work there are very nice and helpful.  They have really cool keys, which I want to get when I get my first paycheck.  I also want to save up for a laptop.  I am really looking forward to getting my first paycheck!
Thank you so much!
Dan and NAI Elliott
Hello, my name is Dan Vaughan.  I work for NAI Elliott.  The company deals with residential and commercial property management.  I work as one of the assistants.  I help sort out checks and use the metering postage machine.  I've resorted documents so they are in the right order.  I've also scanned and renamed documents using the computer.
I've really enjoyed working for NAI Elliott.  Everyone is really nice, friendly and have been helpful in training and welcoming me to the company.  I especially appreciate and respect how the company places such a high value on its employees, working with the community, and the environment. The working environment is great, and I plan to continue working for NAI Elliott for a long time.
Partner With Us
Contact us to explore how your business can take part in this opportunity to fulfill the employment needs of your business, support your community and improve others' lives. Contact Dawn Bootz.
Business Partners
Contact
Dawn Bootz
Employment Connections Director
503-292-4964 x162
Dawn Bootz