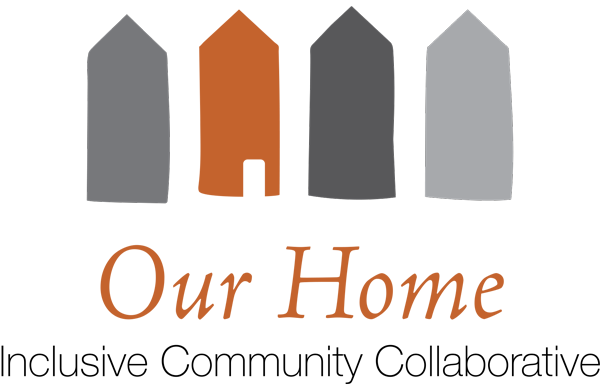 Our Home – Cathedral Park will be an inclusive cohousing-inspired community located near the base of the iconic St. Johns bridge in the wonderful Cathedral Park neighborhood of North Portland. Just minutes from downtown Portland, near public transportation and walkable to many amenities, including the beautiful Cathedral Park, Our Home – Cathedral Park will be one of the most desirably located developments in the city.
Our Home – Cathedral Park was envisioned by Our Home, Inclusive Community Collaborative and will be developed with the support of Community Vision. It is founded on the concept of creating community for all. The multi-unit project will host a variety of home ownership opportunities for individuals and families of diverse abilities, ages and income levels.
What is Cohousing?
Contemporary cohousing, founded in Denmark 30 years ago, made its way to the US more than a decade ago. It combines homeownership with shared values and communal spaces to create an environment for individuals and families looking to build lives and community together.
Our Vision and Values:
Our Home, ICC is founded on the belief that a healthy community requires diversity, including people with disabilities, people that want to age in a home of their choice and people that may be below median income. We believe that all members of our community should be able to share in the development of a community's identity and vision. We believe in cultivating supportive, lasting relationships with each other and developing a community that shares space, decision-making and core values. These values include:
Learning and growing together
Creating a true sense of belonging
Cooperative decision making
Sharing and respect
Reciprocity, opportunity to both give & receive, purpose, and fun
Diversity
Connection to the neighborhood, city and region
A beautiful and supportive physical environment
Our Home – Cathedral Park Details:
Universally designed, accessible homes including 1, 2 and 3 bedroom units
Estimated completion date: 2022
Location: N. Edison Street and N. Burlington Street in North Portland
Conventional ownership of individual units and shared spaces
Shared landscaped courtyard and interior community gathering space
1 ADA accessible unit
Additional shared spaces including: Community kitchen, laundry, outdoor areas, bike storage, guest unit and more
Several subsidized units for qualifying individuals
Imagine Yourself Here
If you can see yourself as a part of the Our Home – Cathedral Park community, or want to learn more, please visit ourhomeicc.org or connect with Alicia Delashmutt at alicia@ourhomeicc.org.